Ten Things I Did While on Hiatus
Anger Management:
It took awhile, but I channeled my temper in some positive directions, resolved an ugly, toxic personal situation without responding in kind, accepted that which I will never be able to change, and generally walked the Serenity Prayer path every step of the way. Sometimes you really do have to turn it over to your higher power, and I did. If you're ever at the same crossroads, this is a good way to go.
Baby Bunny Rescue:
While my guy was doing the lawn he accidentally uncovered a nest of three tiny baby bunnies about a foot away from our back porch. The babies were so small you could literally hold them in the palm of your hand. Because of the damage to the burrow, and the threat of our dogs (who then knew exactly where it was) we couldn't leave them where they were, so we put them in a carrier. My daughter and I then drove for an hour through a pretty hellacious storm to get them to a volunteer at a regional wildlife sanctuary. This place will care for them until they're old enough to be released back into the wild.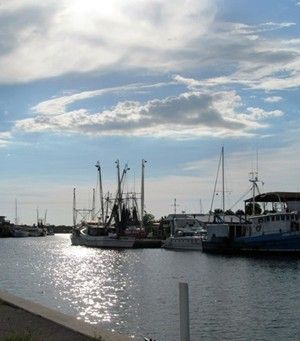 Best. Zen. Revenge. Ever.:
This also took some time, but I straightened out all the contract headaches caused by the fake reviews posted for a story I never wrote on that site I'm never again going to mention by name here (this to keep away Googling trolls.) In the process I sold translation rights for two stories that I actually
did
write and made a nice pile of money. These earnings will pay for a big chunk of my kid's school expenses this semester. So in the end the mess turned into something terrific for me, and very helpful for my college kid.
Edited Stuff:
I finally got the chance to edit and post the final version of my Just Write novella
Ghost Writer
, which you can read, download, print out and share with friends for free
by clicking here
.
Flying Solo:
I handled my first major contract negotiation with a publisher in another country; this without an agent or anyone helping me. I'd say I did very well, and oddly enough the universe did not collapse. Who knew?
Road Trip:
My family took me to a beautiful little fishing village on my birthday, where we spent the day walking around and taking pictures and having fun together. Being with my crew and recharging my creative batteries is the best way to spend any birthday.
Sewed and Created My Brains Out:
All the time I usually spend on the blog went toward sewing for fun and getting a jumpstart on my holiday projects. I made tons of pillows, taught myself the basics of silk ribbon embroidery (still need a lot of practice, but wow, really a cool way to embellish), designed and pieced a queen size quilt, and pattern-pieced a lap quilt, embroidered a silk needlebook with a lace jellyfish on it as a tribute to my birthday trip (see pic below), and even rehabbed an old Victorian photo album into an art journal. I also made a new and extremely creative, inspiring friend, and tried some stuff I've never done with vintage fabrics, silk and reclaimed wool. Basically eight weeks of creative bliss.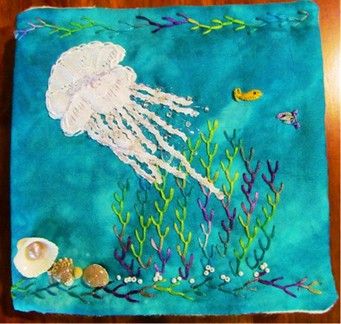 Slow-Cookery:
One of my birthday gifts was a beautiful multi-function slow cooker that also steams rice, makes yogurt and even bakes cheesecake. It really does just about everything but set the table for me. I then found a slow-cooker recipe book at BAM, and I'm trying a new recipe every week. This will come in handy this winter, too, when we want more substantial meals.
Spruced Up:
Another nice thing I did for myself was to clean up and clear out my spare bedroom and office. I'm now working on the closets in both rooms, which are way overloaded with stored stuff I'm probably never going to use again. Everything we don't want to keep will be donated to Goodwill or the Families in Distress shelter, as applicable.
Wrote:
About 100K altogether for the clients, but also some poetry and lots of journal entries. I also finally cleaned out the last of my e-mail accounts.
I am still working on a few things yet to be decided, finalized, etc., but all things considered my two point five months away were very productive. My next post will be on this Friday, the 16th, at which time I'll explain more of what's ahead and everything that will be changing with PBW.
So what's been going on with you all? Did you miss me, or was it a nice vacation for you, too? Anyone read some great books? Publish their own? Please catch me up in comments.