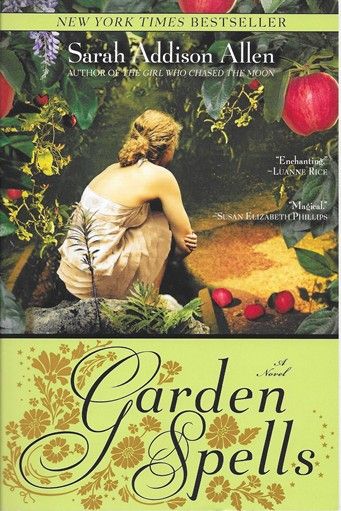 With work and creative rehab taking priority for me this summer I didn't read a huge amount of books during July and August, but I did take time for at least one or two reads per week. My favorite book from the batch I read in July was
Garden Spells
by Sarah Addison Allen, which I've taken to rereading whenever I feel really blue.
There is something about this novel that just drop-kicks whatever is bothering you to the curb. For writers I think it reminds you of the thrill of writing. Reading
Garden Spells
always makes me happy, and it's the book I still most often give other readers in real life (just last month I gave a copy to my favorite indy bookseller in town.) It's a beautiful story. If I believed in magic, I'd think there even might be anti-ugliness spells printed invisibly behind the test.
If you writers want an example of book with multiple genre appeal, this is one to study. It's literary, romance, and paranormal, all without being pretentious, maudlin or too far out there. It's also funny without becoming a caricature of itself. The realism is what I like best; the setting of Bascom, North Carolina reads like a real town with a lot of charming secrets. The characters are interesting, quirky, and deceptively simple. Nothing happens without a reason in a Sarah Addison Allen novel (she must have paid attention during that class on Tolstoy) but nothing seems artificial or arranged, either. That's very tough to do.
I first read
Garden Spells
back in 2011 (and
wrote it up here
), and to this day it still reads as fresh and fun and magical as it did then. If you want to treat yourself to a wonderful novel, this is the one to invest in, no question.
I got a real treat in August when I found a copy of Rebecca Flanders'
Wolf in Waiting
in a thrift store. This paranormal romance was one of my favorite reads of the 90's, and I was curious to see if it retained its delight after all these years. Which it did, so well that it ended up becoming my #1 read in August.
I loved the Silhouette Shadows line when it debuted, which in those days was kind of a bold move for a publisher to take (vampires had yet to be Hamiltoned or Meyered back then.) I'd never read the author, and somehow missed book one in the trilogy, but that actually was for the best. This was the strongest novel of the three, and offered a lovely, hip romance between a gorgeous royal werewolf and a delightful would-be were who can't shift. The world-building is magnificent for a Silhouette, which tend to be very light in that department. There's mystery and intrigue, and a dinner scene between the main characters and some snobby weres that to this day I remember when I need ammunition for a social confrontation in a story. The end twist is even better. The end twist is amazing.
Since this book is over 20 years old now you probably won't find a paperback copy unless you stumble on it at a thrift store, or have a really good romance UBS in your town, but it has been repackaged and released as a standalone e-book and part of a trilogy bundle. You can absolutely read it without investing in the other two books, as it's an excellent standalone, but for fuller appreciation of the world-building you probably should read the other two (which oddly didn't wow me half as much.)
So those are the two books of my hiatus. What were your two favorite reads of the summer? Let us know in comments.