It's funny that almost the minute I come back from hiatus, every other thing that pops up in my face is about two very famous people getting a divorce (and forgive me for not naming them, but I'm not inclined to join in the hen party/crow fest.) These were the same two people who got together in properly scandalous fashion back when I started PBW, so it's a little ironic that I've outlasted them. Or may not. The day I retire they'll probably get married again or have a secret baby or something. Well, at least they're not Kardashians.
What have I done that I can talk about . . . I finished quilting the lap quilt I made for my Mom's birthday: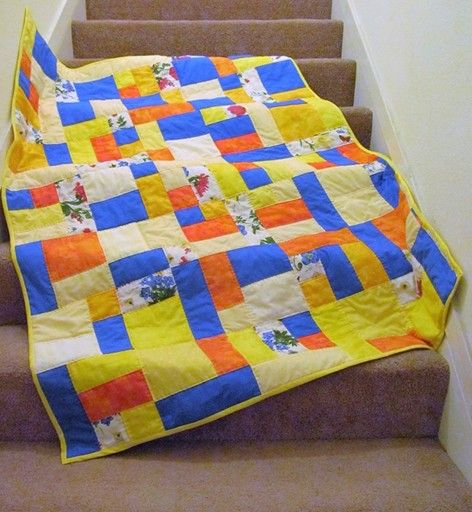 I machine pieced it but hand-quilted it, and battled my aversion to the color yellow in the process. Yellow pretty much won me over, but it was a necessary surrender. Since Mom is spending the winter in Oregon I wanted this to invoke summer and sunshine. The pattern is
Atkinson Design's Yellow Brick Road
, which uses blocks made by cutting up fat quarters into strips and piecing them in different ways. Very easy to do, with nice results.
I also rehabbed a Victorian-era photo album into an art journal, which was a first for me. Here's how the album looked with its worn and torn velvet covers, and dirty celluloid flowers, before rehab: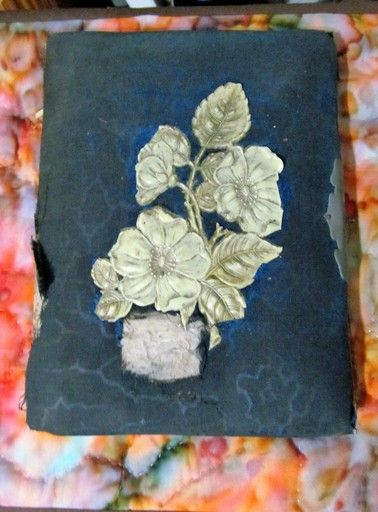 This was a delicate challenge, because I had to carefully remove the celluloid before I cleaned the cover. I also made a new binding for it and handstitched it together. Here's how it looked after being cleaned, repaired, and bound with my journal pages:
I loved being able to show on the front some of the original blue velvet used for the covers, which the dirty flowers actually protected for a hundred years or so. Here's a peek inside:
I made all the pages with recycled papers, old calendars and some pages left over from another art journal. It turned out massive but so worth it. I have another old photo album in red velvet that I'm going to rehab in the same way.
Finally my kid and I made our annual summer pilgrimage to the no-kill cat shelter to make a donation and spend some time with the kitties. They really love her:
Even the suspicious ones were cute:
And of course I fell in love (again):
My guy and I have made the difficult decision not to adopt any more cats, as they tend to be very long-lived with us, and we're not getting any younger. We also don't want to introduce an older cat into a household that at present has two very active, nosy dogs. That and we really are dog people. But that just means I can go and visit the shelter whenever I need a feline fix.
So did you all have any creative adventures over the summer? Share your stories in comments.