Spring has delivered a lot of surprises this year. The cardinals are now both occupying my little maple by the porch to feed and watch over their triplets, which means if I'm very quiet I can snap pics like these through the screen: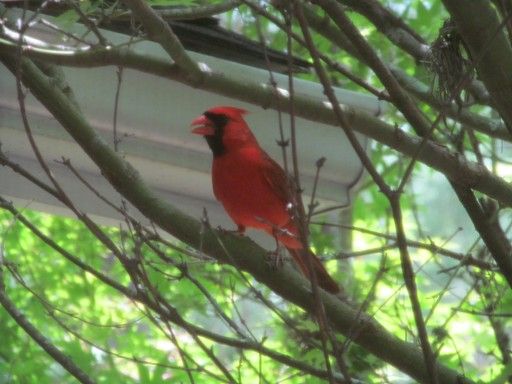 The new parents will have plenty to feed this kids, too, as April is our month for plagues of moth catepillars. Usually we only have to deal with buck and tussock moths catepillars (they both sting), but I'm seeing some new varieties, like this one in the the yard right where I walk the dogs every day:
My best guess by comparing my pic to photos on the web is that it's a salt marsh catepillar, which isn't supposed to sting. My personal policy is not to touch anything with spines, so I scooped him up with a spade to relocate him.
In the mail I got my latest ARC from Library Thing's Early Reviewer Program:
So now I have something new to read in between stalking cardinals and ferrying catepillars.
What has spring delivered to your doorstep? Let us know in comments.