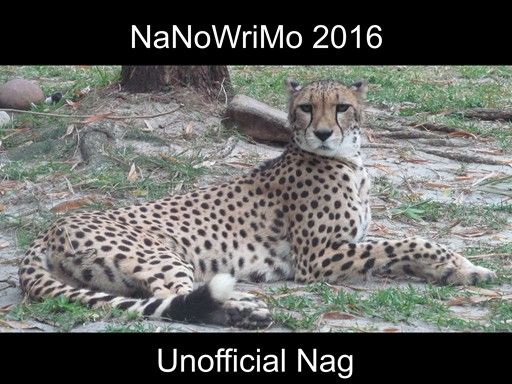 Today we kickoff
National Novel Writing Month
, during which hundreds of thousands of writers all over the planet will be racing to write 50,000 words in thirty days. If you want to join in but have never done so, the official web site has a
How It Works page
that will explain the official participant details.
For the first day of NaNoWriMo I could crush you with tons of writing advice (and if you search under the tag NaNoWriMo on my blog, you will find plenty of pep talks, link lists, writing tricks and other advice I've offered in years past) but I'd like to start off with something else this year: writing as the other thing.
There are lots of things in life we have to deal with, like the fact that in about a week my country will elect a new President. This campaign has been the dirtiest, meanest, most disgusting and offensive political mess I've ever seen (and my grandmother forced me to watch the whole Watergate debacle when I was a kid.) I am appalled by the way most people are behaving over it. I get hate mail every day from one of the candidates; so much so that I make my guy pick it up from our mail box now so I don't have to touch it. I dread the outcome and the impacts it will have on me, my guy, our kids and everyone we know. As situations go, it's beyond toxic.
I could easily give myself another ulcer while I wait for the outcome of the election, or I could do something else. Something productive. Something I love. Something that helps me deal with an ugly world. The other thing.
Another thing that weighs on me daily -- three of my family members are also having a rough time in their lives right now. Really rough. I love all three, and am doing everything I can to help them, but I can't fix their problems. That frustrates me so much that I've been having trouble sleeping. I want the people I love to be happy, safe, and in good situations, and it kills me to feel so helpless while they're not.
I could wallow in dread and despair over any or all three of these situations until they come to their inevitable conclusions, and even work myself into a depression so deep I have to take another two-month hiatus. Or I could do that other thing.
Writing is never ugly. It doesn't send me hate mail. It doesn't get itself into impossible-to-solve situations. It simply is. It always waits very patiently on me to get on with it. It doesn't take offense when I use an excuse to avoid it. No matter what I do, it's always there to rescue me from reality, give me secret worlds to escape to and provide me with income and an outlet for my creativity. Writing is the silent best friend who saves me every day from everything else.
Writing is not just the other thing. It's my thing.
I wish every one of you who are participating in NaNoWriMo this year the very best of luck. Now I'm off to do my thing -- how about you?