National Novel Writing Month
begins in eight days, at which time hundreds of thousands of writers all over the planet will start their race toward the 50K finish line. In order to win NaNoWriMo, a writer has to produce at least 1667 words per day, or 12,500 words per week. It's madness, and crazy fun, and the best free writing competition out there.
Why should anyone try to write 50,000 words in thirty days? In the two years since I went freelance as a ghost writer I've averaged writing about 75,000 words per month (and that's not counting free stories or what I wrote here at PBW.) As a pro novelist before that I averaged about 50-60K per month -- and I did that for sixteen years. I am very fast, so I do write more per day than the average writer. That said, if you want either job, you probably should give full-time writing a test-drive first. NaNoWriMo is an excellent way to find out if you can handle writing a great many words under the pressure of a deadline.
For experienced writers, writing a novel in November is a chance to play with new ideas, take a break from your ongoing projects, and/or just write something you've always wanted to. Does it pay off? Depends on what you write and what you decide to do with it after November. I eventually sold the rights to
Harry's Charm
, the novel I wrote for NaNoWriMo 2009, which was later published as the first book in my AH steampunk
Disenchanted & Co.
series. I just sold the French rights for those books and two other stories to an overseas publisher this past summer, too. Bottom line: if not for NaNo I probably would never have written any of them.
Work prevents me from joining in this year, but I've got my pom poms ready for all of you who decide to dive in on November 1st. In all the years I've participated what's always delighted me most is how beautifully our community of writers comes together to support each other.
The NaNoWriMo forums
are wonderful places to chat with other participants, ask questions and find some valuable resources. You can also find local groups in
your region
that meet up in real life to have write-ins and encourage each other. As promised I'll be posting lots of things here at PBW that I hope will be helpful during November, too.
If you're not thrilled by the ninja can opener official participant badges they have this year, here's one I designed:
The tiger photo is one I took this year, and everyone has my permission to use and distribute it for nonprofit purposes. For supporters like me, here's another: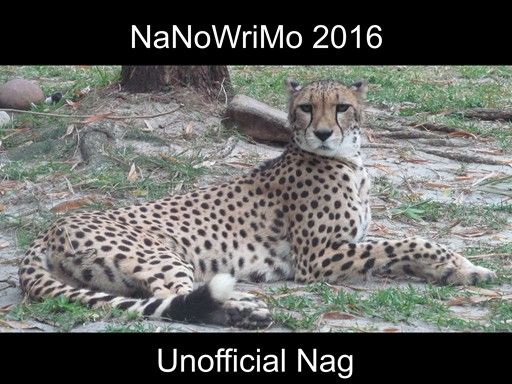 Also a photo I took, and the same permission as the tiger badge applies.
Finally, to kick off the helpful stuff, here are some NaNo treasures from my archives:
Writer's Knowledge Base
-- Elizabeth S. Craig's search engine for writers can find the writing-related online help you need very fast.
OneLook Reverse Dictionary
-- for when you have a definition or concept for which you need a word. Describe it in the search box, click and get a related words list.
For links to my Outlining 101 post and thirteen other links to outlining resources and tools,
click here
.
All ten of these word count meters
I listed last year for NaNo are still available online.
So who will be writing a novel in November? Let us know in comments.