Got the latest journal entry scanned and uploaded (
click here to view the .pdf
) which talks about work, my weight-loss project, birds, poetry writing and an attempt to grow some lychee seeds. I also have some shots of that spring we visited on Father's Day, and a very bare bones sketch of a quilt I want to make out of vintage fabric.
Making a cover for your journal can be as easy or as challenging as you want it to be. I make or remake a lot of my covers because it's fun, and it adds another personal touch to my journals. Often I buy discounted journals with battered or tattered covers specifically for the purpose of recovering them; I not only use them but I often give them as gifts to family and friends who journal.
Here's a purchased journal from 2011 that I embellished with some interesting ephemera and a scattering of flat-backed crystals:
My friend Kathy Uhrig from Strange Notions made this journal, which she recycled from an antique composition book. I love how she used lace as well as paper elements for the cover:
I found this quilted journal slip cover at the annual county quilt show: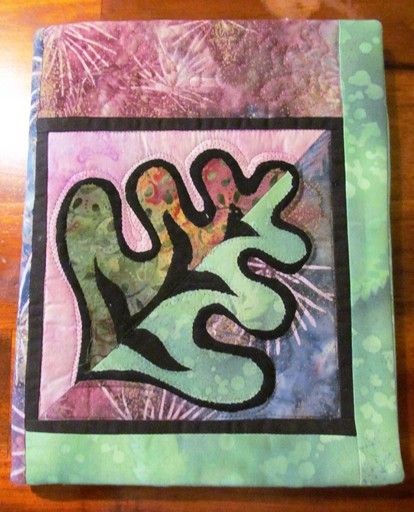 Earlier this year I showed you
how I covered a composition book with a wallpaper remnant
, which is about the easiest way to recover a journal. I've also made journals with unique covers,
like this watercolor journal with a mini wool penny rug as a cover
. If you sew,
here's how I make quilted journal covers.
I also invest in covers made by others, especially when I want to give a journal as a gift. My favorite journal cover artist is Sonya Benson, who has a lovely variety in her Etsy shop
SonyaBensonQuilts
. Here's one of her beautifully crafted quilted journal covers:
The listing for this cover is here
, so you can see the inside and how well-made it is. When I want to give a writer friend a special journal I usually buy one of Sonya's covers, as they're always perfectly sewn and quilted, and fit precisely. I also like the fabrics and colors she works with to make her covers.