My guy and I both like lighthouses, so when we got the chance to go inside
the St. Augustine Lighthouse and Maritime museum
, we couldn't resist:
Signs all around the lighthouse property warned us that climbing the lighthouse's spiral staircase was the equivalent of walking up a fourteen-story building. I wasn't worried; while I'm not going to win any marathons my legs are pretty strong.
Looking up from the base of the lighthouse: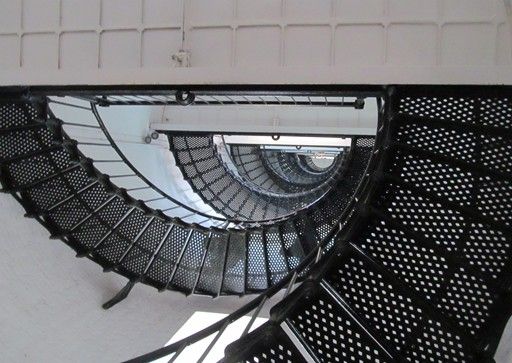 So we climbed. We took a few short breaks on the landings (I'm not so athletic that I can climb up 219 steps without stopping.) The staircase narrowed the higher we went, and we had to wait for people coming down the steps, but finally we made it to the top.
The view proved to be pretty spectacular:
There was a little window that allowed you to see inside the lighthouse's gigantic Fresnel lens, too: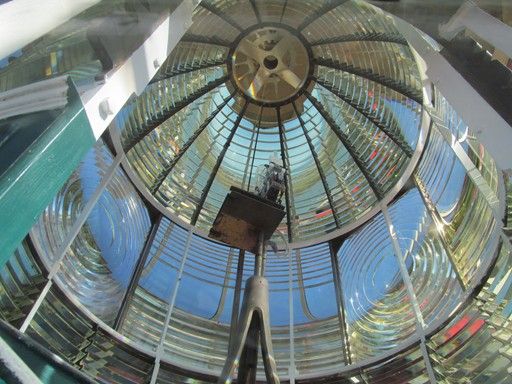 And then there was the climb down, which was not half as tough as the climb up:
If you're ever in the area I highly recommend it as a terrific experience, especially for history lovers.
At the top of the lighthouse I experienced some extraordinary clarity, too. While everyone around me looked nervous, excited, and even a little intimidated, I felt right at home. My guy marveled at the small size of the room where the Lightkeeper worked to keep the beacon burning, but it looked right to me -- maybe because it was about the same size as my work desk. I also liked how hard it was to get to the top; you really had to want it to do all that work.
One lady mentioned how dull the Lightkeeper's job must have been, not to have any television or radio or things to do. I could see him sitting and reading by the light of the beacon, or writing letters, or simply watching the boats come into the harbor -- none of which seemed boring to me. If I had been born in 1888, I would have applied for the job.
I've always thought of retreating from the world into my work as going to my ivory tower -- the old chestnut most writers use -- but from now on I'll think of it as manning my lighthouse.